Hi there, 
Welcome to the Admissions Untangled where we're breaking down college applications and admissions into manageable steps. We know how overwhelming college admissions can be; we're here to help you make sense of the unknown. 
The first thing you need to understand are the major differences between the types of admissions each college offers. Once you get a handle on what each of these types of admissions means, you're able to make better choices around which colleges to apply to. 
However you decide to apply, it's important to know that you should make whatever choice feels right to you. Comparing your favorite schools and deciding which ones you love the most will make applications that much easier. 
Regular Admission 
Regular is the most common admissions type. You send in your application a little later than the other options, and you can send as many applications to other schools as you'd like. The school's decision will come around early March. 
Rolling Admission 
Universities that admit students on a rolling basis do not provide a specific deadline. Once applications are open, they accept or reject students in the order that applications are received. This means by applying earlier, you are not just one application in a massive pile of other applications. Plus, since there is no deadline, you can apply later if you need to. 
Single Choice Restricted Early Action (REA) 
REA means that you can apply to one school before all others, but you do not have a binding commitment. This means that, unlike early decision, if you are accepted, you do not have to attend the school. You can still apply elsewhere if necessary. 
Early Decision 
Early Decision admissions are a binding commitment. When you send in an Early Decision application and the school accepts you, your other applications are withdrawn from other schools, and you have an obligation to attend this university. This is a very important choice to make and should not be taken lightly. It is meaningful to the school because they know you are willing to surrender your attendance from every other university.
Early Action 
Early Action is an option for students who have already narrowed down their choice of university and are ready to apply. They will receive an early notification of acceptance, though they do not need to commit until May 1. Students can also apply to multiple schools Early Action as well as other admissions types (besides Early Decision) 
Admissions Chart Breakdown 
Check out the chart below, which breaks down the important deadlines, decisions, and need-to-know facts of each type: 
Thanks for reading! 
We hope this was helpful for you.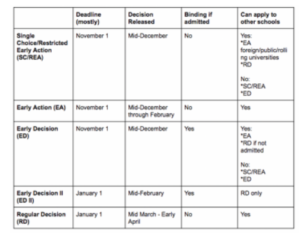 Do you have any more questions about admissions? Be sure to reply to this email with your thoughts. We are here to support you through this important time.